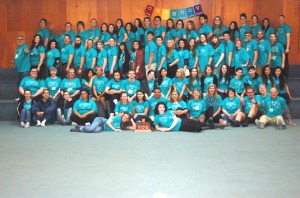 "We hug (lots) at Unity camp for three full breaths and I am a slow breather! The heart has no choice but to eventually open when that one person shows up and seems to hold the key.
Often ageless and faceless. There is no judgement, no expectation…just unconditional love and total acceptance. Who knew that after so many years in the leadership field focusing on growth, human potential and spiritual awareness that a youth camp would hold the key for me!  I am continually amazed at how life unfolds."  Cindy Sheppard, Northwest Youth of Unity (YOU) 2015 Rally attendee
Cindy knows what it's like to experience a Unity camp. For her and many others, it is a life-affirming, spiritual experience. That is why we continue to offer these events to kids and their families and even provide scholarships to those in need.
As you look ahead and plan your summer, keep these dates in mind, and connect with us if you or your grand/kids would like to attend:
June 21-24–Love to Live, Live to Love Kids Camp 2015 (for ages 7-11) at Camp Waskowitz, North Bend, WA.
June 21-26–We Are the Journey 2015 Unitreat (for ages 11-14) at Cispus Center, Randle, WA.
July 13-17–Jungle Safari Kids Camp (for ages 5-12) here at Unity Spiritual Center Spokane. KidsCampregistrationform2015
July 20–Adventures in Peacemaking (for ages 6-12) at Unity Center of North Spokane.
August 20-23–Play IV Multi-Generational Camp (open for all families, couples & individuals) at Cispus Center, Randle, WA.
Call us for more information on these camps, how to register or the scholarship process: 509-838-6518.