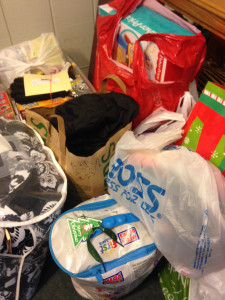 We wrapped-up our Tree of Sharing, our first ever, for the Christmas holiday. We collected 20 gifts, totally approximately $500. Actually, as our generous members couldn't help themselves, more was donated. Several of our members said to me that they threw in an extra game, pair of socks, toy, pair of gloves. We just can't help ourselves when we're in a giving mood and affirming our prosperity belief that…
"Divine Love, through me,
Blesses and multiplies
All that I have, all that I give
And all that I receive." Leaving us joy-filled and grateful. Merry Christmas and happy holidays to you and yours.
If you are in need of assistance this season, please contact the Christmas Bureau.
What is Christmas Bureau?
It is an incredible annual holiday assistance program coordinated by Catholic Charities Spokane, Volunteers of America, and The Spokesman-Review.  This amazing program – made possible with generous monetary funds and many volunteer hours donated by community members and organizations –  provides toys, books, and grocery store vouchers for thousands of low income individuals and families.
When and where is the 2015 Christmas Bureau? December 10 – 19 (excluding Sunday), 10am – 2:30pm
Spokane County Fair & Expo Center, 404 N. Havana, Spokane, WA
Contact Judy Lee, Christmas Bureau Coordinator, at 509.358.425 if you have questions.