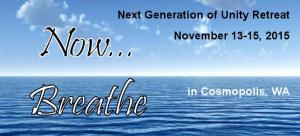 Are you wanting to experience peace of mind on a more consistent basis? Come join the Northwest Next Generation of Unity to learn practical tools you can do daily to be more mindfully aware of your spiritual connection. At this weekend retreat you will grow and expand in an accepting, spiritual community of young adults (18-35) as we shift toward mindful living.
At the Now…Breathe retreat we will explore mindfulness practices and the benefits they can create in your life.
The registration fee for this weekend retreat is only $140 when you register by October 9th ($165 from October 10th-23rd) and covers all retreat expenses including meals and lodging. Financial assistance is available.
Create your experience of life from a place of awareness and intention. Don't miss this opportunity, registration closes October 23rd. Click the picture above to be taken to the website for registration!
Northwest Next Generation of Unity is an open community of Unity young adults exploring truth, learning, growing and serving together in love.