Rev. Jane spoke last Sunday about the emotional baggage we might still be carrying with us in our present lives: the hurts and traumas from our past weighing us down. It takes work to unpack these "bags." We must unlearn what we've learned in order to try and cope with these hurts and to carry on with the business of living (Listen for Rev. Jane's "The Great Unlearning" talk for help).
And work we shall do if we want to live an awakened life and nurture healthy relationships with our family members, friends and community members. One woman, Dr. Shefali, has been raising awareness on the issue of decluttering and clearing out our emotional baggage, especially as it relates to parenting. She's received a lot of media attention lately on the topic of present parenting and nurturing awakened families. She's a clinical psychologist, and she resonates with Oprah Winfrey, the most famous Unity member we know 😉 So it seems like an appropriate topic for our blog.
Dr. Shefali states, "Our egos get hooked and we lose our ability to educate for the sake of education. We begin to project all sorts of emotions onto our children that were not theirs to bear, but instead ours to process and heal. It is here that we muddy the waters. If we were able to stay unemotional and simply teach our children the right way to behave, without drama, then we would have mastered the ability to contain our children the conscious way." Wow. Ponder that for a while. Then receive this blessing….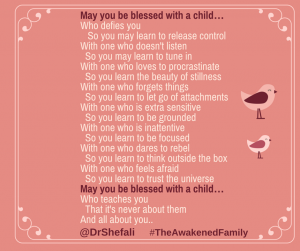 Rev. Jane and Dr. Gary left today on a road trip to Unity Village-wish them well. They'll return recharged and with inspiring words and transformative talks soon.
This Sunday, hear from Rev. Michael Moran, and next Sunday plan on spending Fathers' Day with us and guest speaker, Dennis Ashley. Then Dr. Gary speaks, June 26 on "To Have and Not to Have-That is the Question." Blessings to you.