We, Unity Spiritual Center (USC) of Spokane, are making history! At the Small Groups Leadership Summit this last weekend in Missouri (Unity Village), our center was recognized as the "Campus of the Year" for our spiritual community's commitment to our mission of transforming lives through SpiritGroups. We are the first Unity to create and invest in a SpiritGroups Program Leader position. Plus, in our first series, we had over 50% of our congregation engaged! USC is a leader in the Unity movement! I just thought you should know…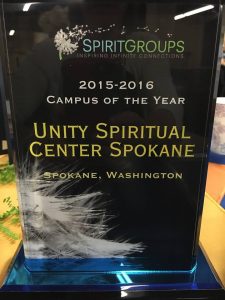 Yes, I was blessed with a weekend getaway to Unity Village in Lee's Summit, Missouri where I attended the first annual Small Groups Leadership Summit. I have come home energized, excited and ready to take our Center and community to the next level!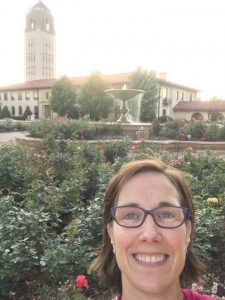 The setting of the Unity Village was perfect with calming fountains, a rose garden in full bloom and quiet sitting areas for peaceful reflection. The musician for the weekend was Robin Hackett (yes, the same angel voice from the SpiritGroups curriculum videos). She is a sparkling soul with a guitar that expresses beautiful Spirit through music (her voice fills my office as I type). She has a gift and brought us all together with her smooth, buttery sounds and soulful, uplifting lyrics.Inspirational ministers, leaders, volunteers and curious people from several states across the country joined Mendi Audlin (the program creator) and a variety of incredible speakers to share ideas, nuggets of wisdom and stories of true impact on lives changed from SpiritGroups.
So what's next for our center? We finish our first series at the end of this month after an amazing launch – 10 groups hosted by 14 angel hosts for over 80 participants. That's more than half of our average Sunday attendance! What this tells me is that a good number of people in our USC community are practicing spiritual disciplines, connecting with each other through exploration of ideas and service and that numerous lives are a-changin'. To continue living our mission, our next series kicks off the week of September 11.
To celebrate and reflect on our first series, we will be having a community-wide event on Wednesday, June 29 @ 6:30 pm in our Unity Spiritual Center Sanctuary. Whether you are a current host or group member, plan to host or be in a group in the fall, are simply curious about what all these people have been up to for the last ten weeks or just want to come celebrate with us, please join us at the end of the month.
Hope to see you there!
Tara Wear