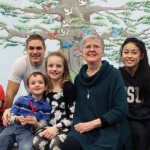 Our UniKids, UniFriends and Uniteens have been playing Compassion "Giving Games"  Survival of the Kindest. They are striving together to make our planet a better place to live through community service and acts of kindness. The youth staff is providing fun and creative ways to ignite and catalyze compassionate action. Their activities will extend into the new year. They created a Caring Tree on a Compassion Wall for all ages at Unity to decorate with stars noting acts of kindness.  A Parent Compassion Day (to give parents a break during this busy season AND build community amongst our kids) is being sponsored Saturday, Dec 3rd with 4 hours of free childcare and a children's program for infants through 11 years of age. Older kids are helping staff to facilitate crafts, games, snacks and more. The youth decorated their family kindness jars to hold slips of paper recording acts of kindness they have given and received as well as those they have seen.
Also, our youth will be gathering supplies for Refugee Baskets Dec 11 – Jan 8. These baskets will contain items that families can use when they arrive and get set up in their new environments. The kids have chosen to create baskets for the bedroom and the kitchen. Some items can be used, in good condition, and some must be new. You can help "Share the Love and Welcome the Stranger" by helping the kids put together medium-sized laundry baskets for refugees in need.  The game is to experience the joy of giving with compassion.
Regional Events
NGU event on January 8th at 1:30 at the North Spokane Unity.  Anyone 18-35 is welcome to attend.  This will be a Y.O.U. reunion for many.  We will have lots of conversation and snacks to get everyone reconnected.  Contact Kelley  208-597-1384 for more info about this event.
Contact Rev. Jackie jackienwyouATcomcast.net, or call 838-6518 for more info on our youth education programs and camps.