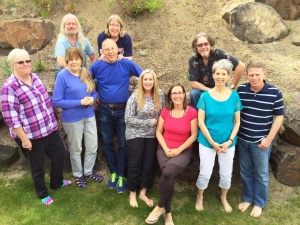 GO TO THIS LINK! 
REVIEW:        See the groups that still have space and their details
FIND:              Based on the details, find a group that suits your needs.
CLICK ON:     The name of the group in blue to see more details about the group.
CLICK ON:     Login if you have already created an account & want to "express interest" in this group
     OR
CLICK ON:     Create one if you haven't created an account on this database yet. Find the group you are interested in and click on it. Express interest.
PLEASE contact Tara at twearATunityspokane.org if you have any troubles.
Groups Forming (by day)
Mondays:  David & Donna McClure * 530-7pm * South Hill * All welcome * "Your Twelve Powers"  FULL
Tuesdays: David Leinweber * 630-830pm * All welcome * West Spokane Valley
Tuesdays:  Al Konigsfeld * 7-9pm * All welcome * South Hill * All welcome * "Your Twelve Powers"
Wednesdays: Tara Wear * 10am-12pm * South Hill * Women/Moms * "Sunday Message"
Wednesdays: Analisa Azzopardi * Time TBD * All welcome * South Hill * "Comedy, Laughter & Yoga"
Thursdays: Wayne Green * 630-830pm * East Spokane Valley * "Sunday Message"
Fridays:  Karen D/Tara W * 1030am-12pm * South Hill * Walkers/Hikers * "Sunday Message"  FULL
Fridays:  Susanne Croft * 530pm * South Hill * Earth-based Spirituality   FULL
Series Dates (by week)
January 22   Kickoff week
January 29   Intro to content
February 5   Content Week 1
February 12 Content Week 2
February 19 Content Week 3
February 26 Content Week 4
March 5         Content Week 5
March 12      Small Group's Service Week
March 19      Small Group's Social Week
March 26      Celebration Luncheon (Entire Community)