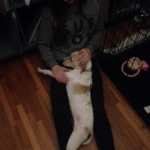 Our family adopted a little pup on Monday evening. We met and chose her last week at Spokanimal, our Inland Northwest Humane Society. She's pictured above, sleeping in my daughter's lap (click for big). That picture was taken on day one. Today marks day three, and she's still just as in love with my daughter and the rest of us. And we're pretty smitten too.
Our daughter has been asking us to get a dog for about a decade. "Too many pets already," we'd state. Three cats and a guinea pig are enough pets, right? "Dogs are a lot of work!" we'd protest. Training takes time and dedication. "You don't help take care of the other pets, so no dog," we'd complain. That complaint is only partly true. But life situations change. We still have all those pets, but we've worked to minimize clutter and simplify our home, so there's less to maintain (house, possessions). Dogs are a lot of work, but my husband works from home now, and I work part-time. I began talking to another rescue organization about adoption two weeks prior to getting Daisy. All of the above concerns came up and were clarified through the Q&A process. Researching, listening and then releasing the old narrative my husband and I have been telling ourselves made way for this new possibility.
"Rescue" has good and bad connotations. To be rescued is a good thing. You feel good and happy to save something. To rescue something, could be good, but it's also risky. Rescue dogs can come with issues, so we were hesitant. We didn't want to get a dog from Craigslist though, that may have been born and raised in a puppy mill. Supporting that kind of situation didn't sit well with us. A few friends kept encouraging us to try our local shelters, SCRAPS or Spokanimal, where folks can meet dogs, walk them, spend time with them in a secure area and really feel them out. So I did all those things before deciding on our five-month old pup, Daisy. Spokanimal flies dogs here from parts of the country where there's a problem with strays. Daisy was one of those dogs. Rescue, with it's mix of good and bad, was what we chose. That's life too I guess, not all good or all bad, but a mixture of both.
The first night we had Daisy, she surprised all of us. She was lethargic and shaky. The rest of the family expected a happy Labrador-mix dog. The pup we brought home seemed smaller than I remembered, and where was the cheerful Lab side of her? Hmmm, did I do the right thing? I went to bed that night anxious that I brought home the wrong dog for our family. Turns out Daisy was coming off anesthesia from just being spayed, and she was loopy from the drugs. Poor pup! After a quiet night in her kennel in a secure place in our house (away from the angry cats), she was refreshed and loving. What a relief! She's eager to please and learn, curious, a little timid, and loves to cuddle and chew. Balls seem to be her favorite toy. My hubby, daughter and I just love her.
We did our part to educate ourselves (bringing home a new family member is a big deal), which helped to rewrite the narrative we told ourselves. Rescuing a dog was a scary step for us, but we're relieved to see the positive shift in our family. We're strengthening our abilities to be flexible, to be consistent & positive. It's renewed our faith in each other and the world. Getting out that comfort zone and taking a risk has it's benefits. A well researched risk, mind you, but still a risk! Life is good!