Unity Spiritual Center helps us transform our lives by inspiring us to make a difference in the world. But how do we get there? Well, we can't get there by doing the same old things and by relying on old habits. How do we change the world and our lives?
This spring, Unity is hosting small groups and SpiritGroups online via Zoom.  These online gatherings inspire connections, one small group at a time, by coming together in a spirit of love and support.
Through healthy, balanced small groups, people have the opportunity to grow in their spiritual practice and engage with each other in a deep, meaningful manner. In these supportive discussion groups, hosted throughout the community, members gain practical insights about spiritual principles that can transform every area of their lives.
At the heart of SpiritGroups is an innovative approach to linking each small group to five spiritual disciplines (the Five C's)…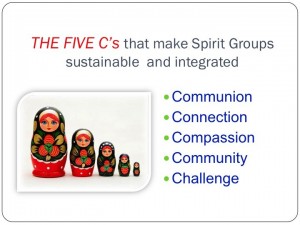 If you would like to learn more about Zoom SpiritGroups, please contact our coordinator, Al Konigsfeld — alkonigsfeld@outlook.com